In order to be effective, Cloud-based services require access to knowledge that defines the network and user community of each customer. Such knowledge may include information on user identities, their email addresses and the network groups to which they belong. Typically the required information resides in customer directories and is constantly evolving as staff join, leave or change roles. Schemus CloudBase provides an acceptable means by which customers can share this sensitive information with an external service without jeopardising security or requiring changes to systems that are critical to the enterprise.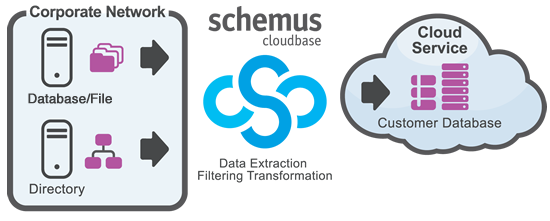 Schemus CloudBase allows customers of a Cloud-based service to easily synchronise user identity and account data between their directory or database systems and the external services to which they subscribe. Customers retain full control of the information sharing and can avoid the complexities and threats that would otherwise arise from opening critical systems to direct interrogation from outside their network boundary.
Installed within the customer's network, Schemus CloudBase simplifies the task of accessing local directories and data stores and minimizing security risks by ensuring that no direct access is required to customer directories from outside the firewall.
Schemus CloudBase can be provided as a generic tool for data integration purposes or is more commonly tailored for use with a specific Cloud service and then supplied by that service provider to their customers. For availability of Schemus CloudBase with specific Cloud services please contact us for guidance.
Schemus CloudBase is the knowledge integration tool of choice for thousands of enterprise customers of leading Cloud services.